I have returned, and with a fun little tag about book covers: the
#CoverLove tag
! As a book-lover, pretty book covers attract my gaze like a moth drawn to dazzling lights. On the other hand, ugly covers appall me - like when I spot a moth (or any bug) hiding in my room.
I'm waxing poetic, so let's move on to the tag before it gets out of control. :P
- Thank the blogger who tagged you and link back to their blog (Ivie Brooks tagged me - thanks, girl!! <3)
- Answer the seven questions your nominator gave you
- Create seven new #CoverLove Tag questions
- Nominate seven other bloggers and let them know they've been tagged
~~~
1. A cover you loved the moment you saw it.
Although Discerned by Sarah Addison-Fox isn't my favorite book in the Allegiance series, its cover is most definitely my favorite of the Allegiance series' covers (which is saying something, because ALL the Allegiance covers are gorgeous). I loved it from the moment I saw it. Not only is the sparkly, purplish-bluish color scheme a feast for the eyes, but the meaningful image of the girl - I'm assuming it's Celeste - sitting on the Words of Etra is SO COOL, and it's just... it's just so pretty. :')
I like the steampunk-y designs on the bottom half of the cover, but I don't like those... those people. First of all, that's not how I picture Alek and Deryn. Secondly, I just don't like faces on book covers. (Wow, I sound like such a drama queen. :P)

By the way, the Leviathan trilogy by Scott Westerfeld is a REALLY good series that I 10/10 recommend! By this third installment, Goliath, I was feeling all the feels and rooting for the characters sooooo hard.


3. A cover you love on a book you hate
This Peter Pan retelling centered on the iconic Tiger Lily character was a disappointment to me when I read it... a year or two ago? I love love LOVE Jodi Lynn Anderson's enchanting writing style, and I love love LOVE so many of her other books -
My Diary from the Edge of the World
is probably my
actual
favorite book of all time - but this one was a very "meh" read for me for several reasons.
The cover, on the other hand, is super lovely?? It's aesthetically pleasing and happens to fit the mood of the novel really well. *nods*
4. A cover that makes you think of your childhood
The cover of
The Forgetting Spell
by Lauren Myracle only reminded me of my childhood after I started actively looking through My Books on Goodreads for a cover that might remind me of my childhood.
Anyway, when I was a young child (and didn't have any electronic devices, unlike little kids today haha) I would play in the backyard with my siblings from the moment we finished school until the sun started to go down. The setting sun and the wild-haired girl on this cover remind me of those times. *is nostalgic*
Even the story beyond the cover has a nostalgic feel to it. I distinctly remember enjoying it. <3
5. Aesthetic goals book cover
Need I say more?? The cover of this (really cool) novella is the
definition of aesthetic
. I get a little jolt in my heart just trying to absorb all its epicness.
I mean,
you
try taking in all the amazing elements of this cover and see if it doesn't make you suck in your breath! #challenge
6. A book cover with a food item you love to eat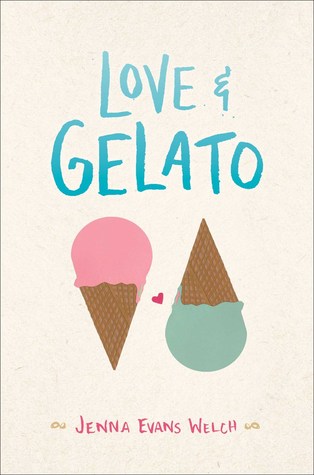 Okay, so I admit... I've only had gelato once. (I think.) But I really liked it. It was Nutella-flavored, and I got to eat it while standing near the Caribbean Sea after dark, so that was super nice. <3
Although this is an
adorable
cover, with the gelato cones and little pink heart and all,
Love and Gelato
wasn't my favorite book? It was interesting and cute at parts, but some aspects of it were pretty darn annoying. :/
7. A book cover you love on a book you love
I love the simplicity of this cover, and I also love the
darkness
of it because that fits the mood of the story SO well.
Heartless
by Marissa Meyer is an Alice in Wonderland reimagining, and it. Is. INCREDIBLE. We're talking the "rip-your-heart-out-and-laugh-maniacally-while-you-fall-against-the-wall-and-slowly-slide-to-the-floor" sort of incredible.
I definitely recommend it. *finger guns*
~~~
1. A book cover you hate that is your favorite color
2. A book cover that doesn't fit with the story
3. A book cover you wish could be your WIP's cover
4. A book cover with a design that's too simple
5. A book cover that immediately made you want to read the book
6. A book cover that is a pretty accurate depiction of your life right now
7. A book cover with a clever incorporation of the title and/or author name

Well, that's almost seven other bloggers, so we're gonna roll with it. No obligation to do this if you don't want to do it or have already been nominated! :D

I hope you all enjoyed this post! Thank you for taking time out of your busy schedules to read it - it means a lot to me. <3